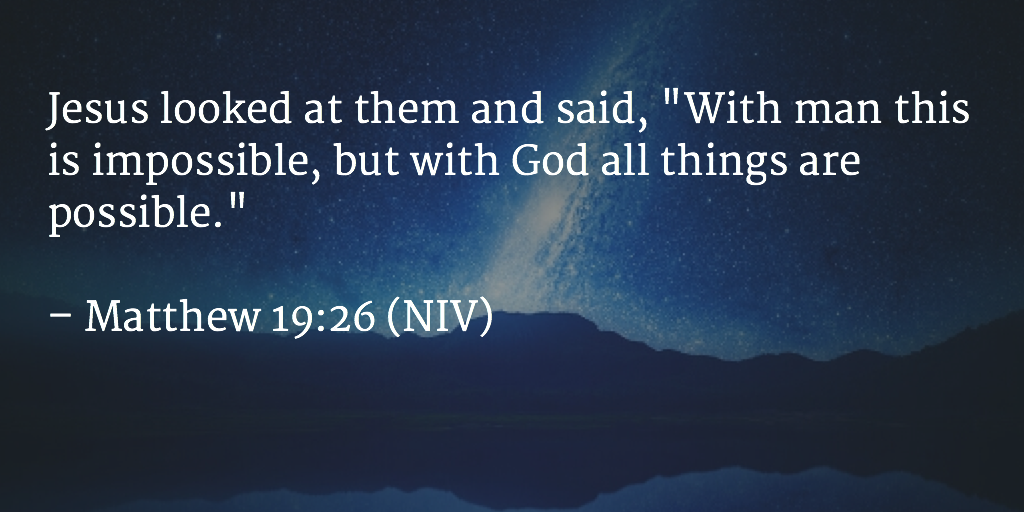 FAITH BOOSTER:
All Things Are Possible !!! [March. 19, 2020]
WORD OF FAITH:
Jesus looked at them and said, 'With man this is impossible, but with God all things are possible.
Matthew 19:26 NIV
Are you facing something today that seems impossible? With man it may be, but with God, ALL things are possible. If you seem to be in an impossible situation, get "with God!"
Sometimes it's so easy to focus on our problems and try to solve them in our own strength. But remember, the battle belongs to the Lord. He has a plan for your victory. He has a plan to give you a way out. He is making the things that seem impossible, possible!
The Bible says that He has plans for your good, not for evil, to give you a future and a hope. Start believing and confessing today, "I am with God; and with God, all things are possible!" Are your bills piling up? With God, all things are possible. Do your relationships need healing? With God, all things are possible. Is there sickness in your body? With God, all things are possible! Hold on to that truth and be empowered to live in His victory in every area of your life!
PRAYER OF FAITH:
Father, thank You for making a way where there seems to be no way. I choose to trust You, and I believe that all things are possible! Show me Your power today. Work through me to encourage those around me to trust You more in Jesus' name. Amen.
Give hope, prayer, and encouragement below. Post a comment & talk about it.
-Witness Ministries-
The   Vision   of    Witness   Ministries   is   to   communicate   'The  Life   Changing   Truth   Of   The   Word  Of   God'   in    unique   and practical   ways    with   as   many   people  as   possible   –  the   simple but   life   changing   truth   that   " God   wants   you   to   enjoy   and  be   a   winner   in   every   area   of   your   life. "
For More Teachings And Articles Visit Our Website: http://www.witnessministries.in
Melwyn And Ruth Misquitta